Lyle, Lyle, Crocodile
Written by Bernard Waber
Illustrated by Bernard Waber
Reviewed by Axel L (age 8)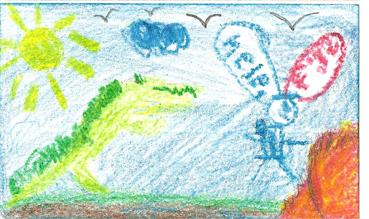 Do you like crocidiles? This story is about Lyle. Lyle is a crocoidile. First, lyle is trying to be a nice crocodile. Lyle has a family. His family are humans. Mr. Grumes, Lyle's neighbor gets mad at him because he is always in front of his house. When Lyle gets lost in the store, he gets sent to the zoo. Finally he got out of the zoo, and there was a fire. Will he save the day or will he forget the fire?
I loved this book because Lyle saved the day. It was sad when Lyle went to the zoo after he got lost in the store. This part when Lyle gets lost, reminds me of when I was lost in Toys R' Us because I couldn't see my mom.
I think my brother would like this book because he likes crocodiles. I think up to age six would want to read this book.