Bears In The Night
Written by Stan & Jan Berenstain
Illustrated by Stan & Jan Berenstain
Reviewed by Yaquelin M (age 6)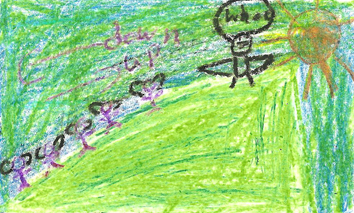 Do you like scary books? This book is about the Bear family, The Berenstain's. All of the cubs are in bed when they hear a, "WHOOOOO," sound. They get out of bed and follow the sound into the woods. It's dark outside, and the Baby cubs are all alone and they are scared. Their mother does not know that the cubs are gone!
This book is scary, because it's dark at night. My favorite part of the book is when they were walking up the hill, because they saw an owl on the hill. I like this book because of the part when the owl scared the Baby Bears, because I felt scared and surprised.
If you like scary books you might like "Bears in the Night." Find out what happens when the bears hear the owl in the scary woods. Go read the book today! You can get this book at your public library or the book store.