Poppleton
Written by Cynthia Rylant
Illustrated by Mark Teague
Reviewed by Jennifer V (age 6)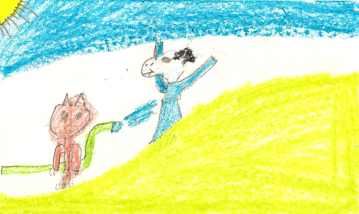 This book is about a pig named Poppleton. He is a pig man. Poppleton gets a small house. He liked his little house. Poppleton meets Cherry Sue, the library man and Fillmore. This book reminded me of when I got so sick.
I didn't like the part of the book when Poppleton was spraying Cherry Sue with water, when he was watering his plants. The part I liked was when Cherry Sue was being so nice to Poppleton. My favorite character was Cherry Sue, because she was being so nice to Poppleton. This book made me feel so good because Poppleton was helping others.
I recommend this book to six-year olds because Poppleton helps people. He also goes to fun places like the library and to people's houses.