The Magic School Bus Gets Eaten
Written by Joanna Cole
Illustrated by Bruce Degen
Reviewed by Mac A (age 8)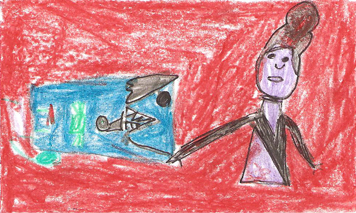 Do you like to study fish? I like this book because they got eaten by a Tuna Fish! Mrs. Frizzle wants to take the kids in her class to the Ocean. She drives the magic school bus, but they fall into the water instead. They saw lots of fish plankton, zoo plankton, and phytoplankton. Arnold is a student in Mrs. Frizzle's class that was scared to go into the ocean. Arnold said the scum is phytoplankton. Phytoplankton are eaten by zooplankton. Zooplankton are eaten by anchovies. Anchovies are eaten by tuna!
I liked the book because it has food chains, and I like food chains. I think that the book is cool. It's all about underwater food chains, creatures under the water, and plants under the water. This book is like another book I read called, "The Magic School Bus on the Ocean Floor."
I think other people would want to read my book because my book is about food chains and science. A lot of people like science. I think scientists and archeologists would like this book because they are into science and they work in all kinds of different sciences.