The Last Alchemist
Written by Colin Thompson
Reviewed by Diana S (age 11)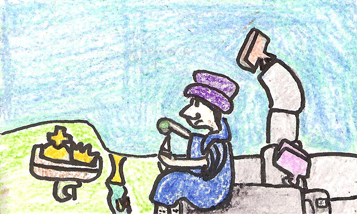 Once there was an Alchemist (Scientist). The very last, last alchemist, named Spinifex and his apprentice Arthur, who worked for the King. So one day, the King said "Find the gold by the Millennium. If not, you're finished." Spinifex sent Arthur to find gold, but he didn't bring back what he asked for. They had a fight, and Spinifex took everybody's gold. So did Spinifex ever find gold or did the king finish him? Read it and find out.
I think this book is funny because it has crazy and colorful illustrations. My favorite part is when the Alchemist said a million words a minute. I think Spinifex is a crazy man, because he is trying crazy experiments. This book makes me wonder why the King and Spinifex wanted to find gold so bad?
I recommend this book to Spenser, because he likes funny books and crazy illustrations. I also recommend this book to the 4th and 5th graders in after school, especially Adrian and Karen, because they like crazy illustrations and actions.