Miss Nelson is Missing
Written by James Marshall
Illustrated by James Marshall
Reviewed by Adelayxis C (age 8)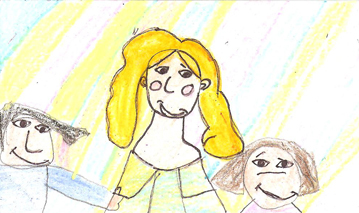 Have you ever had a missing teacher? If you did, then this book is just for you! In this book, Miss Nelson is missing! While Miss Nelson is missing, a mean teacher named Miss Viola Swamp came to teach the class. At the end of the day, Miss Viola Swamp gave them lots of homework. Miss Viola Swamp was so mean that the kids want Miss Nelson back. Because Miss Viola Swamp was so mean, she taught the kids that they should be nice to their teachers.
I felt it was okay but boring, because I was not surprised by the ending. My favorite part is when Miss Nelson came back. The character I didn't like was Detective Mcsmogg because he was not in that much of the story. I think the illustrations need more coloring, like light colors and not that much black color. Something unique about Miss Nelson is she is a really nice teacher, and she has a nice, sweet voice. I feel sad for the kids because Miss Swamp was teaching them.
I think teachers should read my book because the book is about a teacher who is nice, but her kids are being mean. I think teachers should read this book to their kids if they won't calm down. Do you think Miss Nelson will come back?