Miss Nelson is Back
Written by James Marshall
Illustrated by Harry Allard
Reviewed by Karen H (age 9)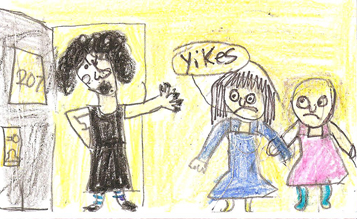 Have you ever had a mean substitute? If you have, this book is perfect for you! The kids in in Miss Nelson's class were happy because Miss Nelson is getting her tonsils out, but then a mean substitute pops in. Miss Viola Swamp, the mean substitute, teaches the kids a lesson. The lesson is to never pretend to be your teacher to get out of class.
Do you like mysteries? If you do, I think you would like this book. My favorite part was when the kids in Miss Nelson's class dressed up like her and acted like her. I liked this part because I thought it was funny. My favorite character is Miss Viola Swamp. I like this character because she is really funny and strict at the same time. This book is unique and special because of how the kids learn a lesson.
I think kids of all ages should read this book, because it's a good mystery to read and it's fun to try to solve who did what problems.