The Secret Knowledge of Grown-Ups
Written by David Winsniewski
Illustrated by David Winsniewski
Reviewed by Sandy T (age 9)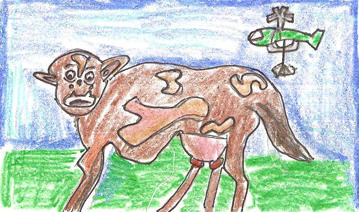 Do you know why your parents tell you to do this and that? Well, they have knowledge. But they have a weird kind. Adults always tell you to drink your milk. It is true it is chock full of vitamins. But the real reason is they have to keep the atomic cows from exploding. They never stop making milk. Adults always say not to blow bubbles in the milk. It is true that it's noisy, sloppy and rude. But the real reason is that the glass sucks you up, and you end up looking like a pony. The main character in the book is the detective who finds all these truths. These ideas are meant to be funny and ridiculous explanations of common adult rules.
I thought the book was funny, and I did like it. My favorite part in the story was when they had to make atomic cows before Russia. They were afraid they would take over the market. My favorite character is the detective in the book. He had found the reasons to these cases. I think the illustrations are funny and clever. For example, they showed a man dressed as a hose. This book reminds me of the book I reviewed last year, "Clementine," by Sara Pennypacker, because they both were about funny business. This book makes me laugh out loud when I read it. The story reminds me of a T.V. show I watched two years ago.
I think other people should read this book if you like jokes. You would like this book if you wish to laugh out loud. This book is full of jokes and funny explanations to every-day adult talk.