Magic Tree House: Tonight on the Titanic
Written by Mary Pope Osborne
Illustrated by Sal Murdocca
Reviewed by Ricardo C. (age 12)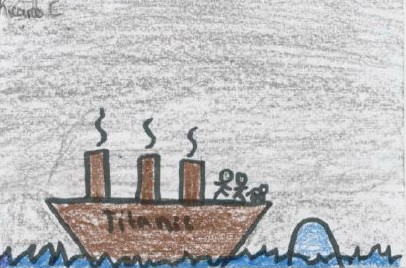 Have you ever been in a boat? Have you ever been in a boat that is about to sink? Do you want to be in a boat like that I don't?
This story is about two kids that found a magical tree house. They found books that take them into the future in the mission talk then in the titanic. They had to go to a mission to save a girl and a boy after the boat sinks at 2:20 a.m. in the morning.
The reason I chose this book is because the pictures on the cover. I liked the picture on the cover because one of my favorite movies is the Titanic. I wanted to learn more about the Titanic. And the time the boat sank and I wanted to know how many people died and how many people lived. The pictures are very helpful to follow the story and they show me inside the Titanic. The pictures were black and white. My favorite part is when Jack and Annie saved the two kids.
[COMMENT: Why was this your favorite part? ]
I would recommend Tonight on the Titanic to every one who likes magical books. I think that kids from 7-8 years would like to read this book because is very interesting and very believable.