Diary Of A Wimpy Kid: The Last Straw
Written by Jeff Kinney
Illustrated by ChadW.Beckerman
Reviewed by Elijah S. (age 12)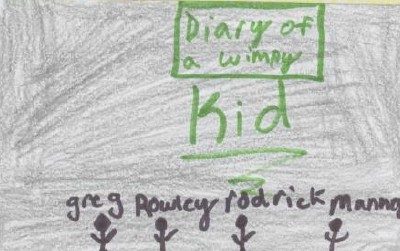 Diary of a wimpy kid is about this kid named Greg Heffley and he is really wimpy. His mom bought him this journal. Actually, it is a diary but he likes to call it his journal. It is about him getting in trouble and him getting grounded and stuff like that. He makes some new friends and likes this girl that doesn't even know that he exists. He tries to play soccer and it doesn't really go so well because he would just go get the ball whenever it went off the field.
I would compare this book to the last two Wimpy Kid books. It has comics on every page and it is funny. My favorite part of the book was when he plays soccer. Well, he doesn't really play soccer. He would just go get the ball whenever it went off the field. But still, when I was done with this book, I couldn't wait for the next book to come out. Manney is my favorite character out of all of them. He is small, and he gets away with every thing. It reminds me of my little sister Megan--the DEVIL!! Greg changes in the book. He is more fun, he has more ideas, and he gets smarter too. Greg Heffley reminds me of me. He gets in trouble, he gets grounded, and he plays a sport also.
I recommend this book to all ages. It is funny and I wanted to read it every day that I could.