The Dark Horse
Written by Marcus Sedgwick
Reviewed by Erik D. (age 12)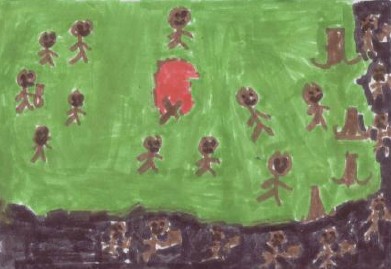 Marcus Sedgwick is an awesome writer. The Dark Horse is an awesome book. Sig is a boy from a tribe called Storn. Sig finds a box that can't be opened. There's a girl called Mouse who was found in a cave full of wolves. Mouse has a mysterious past, Read the book and find out what they all have in common.
I like the book. It is awesome. I like it because it's full of surprising parts. My favorite part is when they attack "The Dark Horses" while they were drunk, I like this part because they didn't expect it. My favorite character is Sig because he has a lot of responsibilities. There's a guy named Ragnald and he reminds me of a thief because he takes things by force. The special thing is that they can't kill family no matter what they do. There's no book like this one. There's a lot of violence in this book. There are three books that Marcus Sedgwick wrote: The Dark Horse, Witch Hill, and Flood Land. The Dark Horse is different from Flood Land. The Dark Horse talks about a tribe trying to survive and Flood Land talks about London being flooded. While I was reading this book, I felt surprised and sorrowful. The story reminds me of the world with all of the fighting and sadness.
I recommend this book for ages 13 and up because of all the violence. If you're into war books I can recommend this book to you. You should read this book if you have the time.