Arthur's Computer Disaster
Written by Marc Brown
Illustrated by Marc Brown
Reviewed by Scott B. (age 9)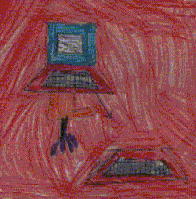 Arthur likes to play a computer game called Deep, Dark Sea. He was close to finding the last thing to reach the end of the game. Arthur's Mom told him he couldn't use the computer but he figured he was close to the end of the game and could finish before his Mom found out. He and his friend were just about to find the treasure chest when they both tried to get the mouse and knocked the keyboard off the computer desk. The computer went black. When Mom came home she went to the computer and Arthur told his Mom what happened. The computer wasn't really broken but Arthur got in trouble for not listening to his Mom.
My favorite part of the book was when the keyboard fell off the desk. It reminded me of when I knocked my keyboard off the desk at home.
I like to read books about Arthur especially when they remind me of something that happened to me. I really liked reading this book. I think that you will like it too.