The Royal Raven
Written by Hans Willhelm
Reviewed by Katie K. (age 9)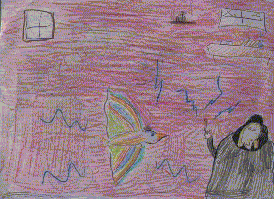 This story is about small raven. All the birds keep making fun of the raven because he is so small and only has few feathers. The little bird was sad, the lady bug keeps on trying to help but he is to small to help the bird. The little bird goes to a witch and the witch turns the little black bird into a beautiful rainbow raven.
There were two characters in the book that reminded me of my big sister, the princess and the witch. I also really liked the illustration of the ladybug because it was in every scene and it tried to help but it was to small. I liked all the colors in the book.
I liked the story because the bird was not sad any more. If you get a chance I think you should read it.