The Chocolate Touch
Written by Patrick Skene
Illustrated by Margot Apple
Reviewed by Scott G. (age 9)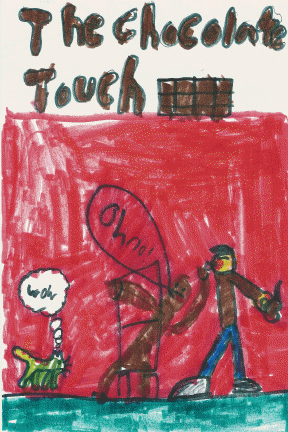 The "Chocolate Touch" is about a boy named John who had the power to turn anything that touched his lips into chocolate. John likes chocolate so much, his parents worry about him and take him to the doctor. Later, while John walked down the road he always turned left, but this time he turned right. He found a coin on his walk with the initials J.M. Then he found a chocolate store. He went into the store and bought chocolate with his coin. After that, what ever touched his lips turned into chocolate. Suddenly his life became hard. It is good to have things different and not the same.
I liked "The Chocolate Touch" because his mom turned into chocolate. The lesson that John learned was his power was not cool. He realized that eating chocolate all of the time was not healthy. My favorite part of the story was whenever something touched his lips it turned into chocolate. This story reminds me of my life because you can't have one type of food all of the time.
I recommend this book because it is a good book.