Danger on Panther Peak
Written by Bill Wallace
Illustrated by Richard Lauter
Reviewed by Celine B. (age 9)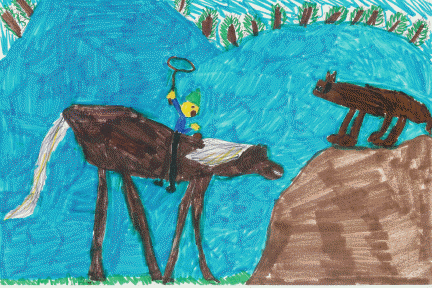 This book is about a boy named Tom, who lives on a farm. He climbs a mountain and makes a friend who he met at the top. His friend's name is Justin. Justin knows there's a legend about panthers, so they have to watch out. In this book Tom learns not to wander off all alone. In the end everything is okay. Two people are in the hospital, but everything is okay. An example of danger in the story happened when Tom and Justin climbed the mountain by themselves.
I think this is a great book. I really liked it. I liked this book because it's very action packed, exciting, it teaches lessons, and it is very adventurous, like when Tom and Justin go swimming in the river.
My favorite part of this book was the end of it. It was when Tom had to go alone to find help for his grandpa, because grandpa could hardly breathe. He brought his grandpa's shotgun. He knew the panther was there somewhere. It was so cold he had to go get help quick or he would freeze, so he rode his horse. He was afraid that she would have her foal out in the cold. Ginger, the horse, did have her foal. Tom was so afraid she was going to freeze. He got the feeling that something was watching him. Tom quickly made a little house for the horses so they would not freeze. Then he hid. Then all of a sudden the panther pounced on Tom. Right at that moment Tom shot his gun and hit the panther. His family heard the gunshot and came. Tom fainted and got clawed by the panther. He would have to go to the hospital where his grandpa was. Tom woke up and saw the panther laying on the ground. After that they took Tom to the hospital. He had surgery. Then they lived happily ever after.
I felt like the book was good because it kept getting more and more interesting. I think it's because as you get deeper into the book it gets closer to solving a problem.
I recommend this book because it teaches lessons and it's very exciting. I thing third graders and up who like animals and adventures would like this book.