Meet Addy: An American Girl
Written by Connie Rose Porter
Illustrated by Melodye Rosales, Renee Graef and Luann Roberts
Reviewed by Mikayla F. (age 8)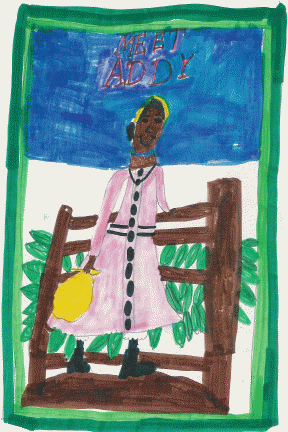 The story is about a little girl named Addy, and she is a slave. When her father and brother got taken away she escapes with her mother a couple of days later.
I thought that it was a happy book. I also thought that it was sad in some parts, but it was a very good book. I have never read a book like that. The illustrations in the book are very beautiful, detailed and go with the story. What is special about the book is that Addy is safe and not a slave. I think that the big idea about the story is that Addy escapes and finds freedom. The lesson in the story to be learned is, do not do what people say. My favorite part was when Addy and her mother had to leave the baby behind. Now Addy and her mom are safe and finally her father and baby brother are safe too. The story made me feel sad, but it is a good book.
I recommend this book to second and third graders. I think that people will like this book if they like history. It is a good book. Try it!