Bunnicula
Written by Deborah and James Howe
Illustrated by Alan Danieil
Reviewed by Wilson K. (age 9)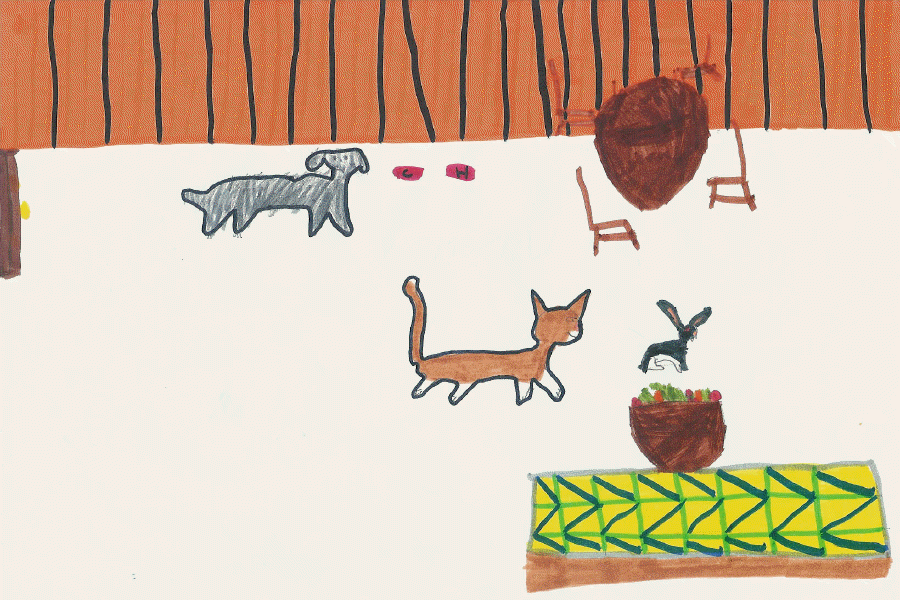 In this book, the main characters are the following: Harold, Chester, and Bunnicula. They live with the Monroes. Their names are Toby, Pete, Mrs. Monroe, and Mr. Monroe.
Let's start with Harold. Harold is a dog. Harold is kind of funny. His favorite Monroe is Toby. He likes Toby because he shares snacks in his room with him.
Bunnicula is a rabbit. He does not talk like Harold and Chester. All he does is hop around in his cage in the daytime.
Chester is a cat with a very vivid imagination. Chester does not have a favorite kid. He likes reading horror stories by Edgar Allen Poe. He is convinced that Bunnicula is a vampire and he is, but not in the way you'd think. He sucks the juice out of vegetables, so all of them turn white. That's all for now. Read the book to find out more about Bunnicula!
My favorite character is Chester because he is super funny. He is a detective too, or so he thinks.
The illustrations are very realistic. They are made mostly from lines. They really tell the story.
My favorite part is when Chester tries to pound a steak into Bunnicula's heart, but he has the wrong kind. He has the meat steak. He wants Harold to read "Mark of the Vampire" while he uses the sirloin steak to try to kill Bunnicula.
This book is like the book "Bunnicula Strikes Again" which is another book by James Howe. Chester ties to kill Bunnicula again in this book.
I recommend this book because it is exciting and funny. I recommend this book to people who like mysteries and to people who like funny characters.