Number the Stars
Written by Lois Lowry
Reviewed by Pedro O. (age 9)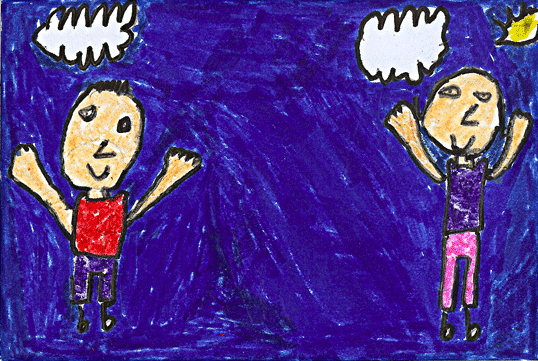 "Halt!" said two Nazis soldiers to Annemarie Johansen and Ellen Rosen. It was a Friday afternoon, and Annemarie and Ellen were racing to school when they were stopped by two Nazis soldiers. The two girls stopped immediately when the soldiers told them to. The Rosens are Jewish so they are in danger while World War II is on. The Germans took the list of people that are Jewish from the local synagogue and went looking for the Rosens at the Johansen's apartment. Mr. and Mrs. Rosen weren't there, but Ellen was hiding at the Johansen's. Mr. Johansen showed the Germans a picture of Lise (Annemarie's dead sister) as a baby with dark hair to make them think that Ellen was Lise. Then the Johansens took a train to Gilleleje to see Uncle Henrik. On the train, they were stopped by two Nazi soldiers that were looking for Jewish people. This is where the adventure begins!
In Number the Stars, one of the themes is injustice. While the war was on, the Nazis treated the Jewish people badly. The Germans put Jewish people in concentration camps. Concentration camps are where the Jewish people were sent when the Nazis found them. They often killed people that were in the concentration camps. The Nazis didn't let the people of Copenhagen have tea, butter, and medicine. The Nazis also didn't let people leave their homes after 8:00 P.M. I liked Number the Stars because the author wrote with suspense. My favorite part in this book was when Papa was talking to Uncle Henrik on the phone using secret codes because it was like Papa and Uncle Henrik were spies. My favorite character in this book was Kirsti because she was funny. For example, when they were on the train to Gilleleje, the Nazis asked Kirsti where she was going and Kirsti said, "I'm going to visit my Uncle in Gilleleje with my brand new shoes" in a carefree way. Kirsti reminded me of my brother because my brother is very funny and so was Kirsti. This is a historical fiction book.
I strongly recommend this book for 4th grade and higher. Adults should read this book, too. Younger kids should not read it because it's about war and some people get killed throughout the book. They might get scared. This book is a very good book for people who like historical fiction. This book is the best book I've ever read because of the suspense!