The Miraculous Journey of Edward Tulane
Written by Kate DiCamillo
Illustrated by Bagram Ibatoulline
Reviewed by Jesus B. (age 9)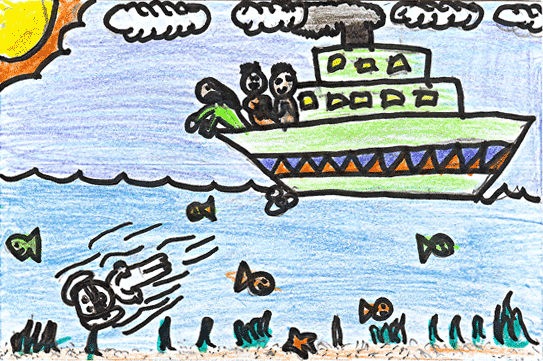 The characters are: Edward Tulane, Abilene Tulane, Pellegrina, Mr. and Mrs. Tulane, Rosie the boxer, Martin and Amos, 2 fishermen, Lawrence, Nellie, Lolly, Ernest, Lucy, Bull, angry many in the train, the old lady, doll with the baby bonnet, Maggie. All these characters change Edward's names and clothes. This book is a fantasy book because china rabbits can't think or love.
This book talks about love, loss, and longing. Edward wants to be with his love ones. He feels sad because he loses one person and then finds another. There is loss because Edward gets separated from the people that he loves. This pattern repeats again and again. Edward is so lucky that the people find him and that all the people love him again and again because he feels love for them.
This is a very good book because it's sad, but it is happy, too. It is sad because Edward had to leave his loved ones and happy because he saw Abilene again. My favorite part was when Edward was caught by the two fishermen because he was able to get our of the sea. My favorite character was Edward because he didn't love at first, but then he started to love.
I recommend this book because it talks of tragedy with happiness. I think you need to read this book and others books by Kate DiCamillo, like Tiger Rising, Because of Winn-Dixie, and The Tale of Despereuax. This book will be one of your favorite books! There are other books written by Kate DiCamillo. Read as many of her books as you can!