The Lightning Thief
Written by Rick Riordan
Reviewed by Megan H. (age 10)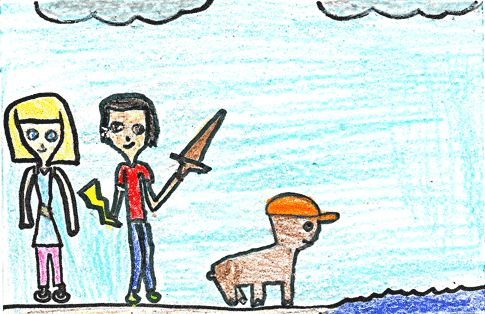 The Lighting Thief is about a boy named Percy Jackson who always gets into trouble. Then, when his mother dies, he finds out that his dad is a Sea God and his best friend is a goat. He has to go to a camp called Half-Blood.
Percy Jackson loves the camp and he meets another friend there named, Anabell. Then when the camp counselor tells him to go to Mt. Olympus in 10 days, he will need his friends to help him out.
They meet different ancient Greek Gods such as Medusa. There are challenges going along the way, like fighting the Gods and getting distracted by other things. They go to cool places, too, like Las Vegas.
Then, Percy Jackson finally arrives at Mt. Olympus. It is also a hotel. He also gets to meet his dad who is the Sea God. His dad also brings his mother back to life.
If I wrote this book, I wouldn't change anything because the book is already good. It's also so much fun and there is action going on in this book. My favorite part of the story is when Percy and his friends go to Vegas, because I go to Vegas all the time and I really like reading about it. My favorite character is Anabell because she's brave and so much fun. My least favorite character is Gordon, because he is a goat and I really don't like goats that much.
This story doesn't relate to my life because it's a total fantasy book and I don't meet ancient Gods. I also don't have a good friend that is a goat. I think others should read this book because it is a fun and exciting story and people who love Greek Mythology would love this book.