George's Marvelous Medicine
Written by Roald Dahl
Reviewed by Gavin G. (age 10)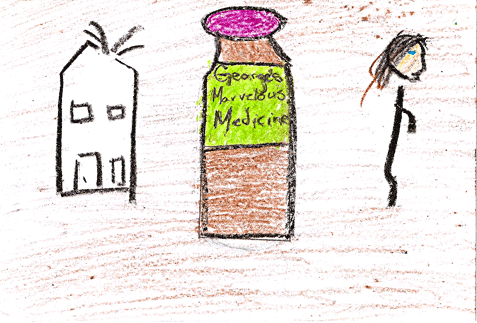 In this story, George's life goes from horrible to great. George decides to make a concoction of household items for his Grandmother. Grandma grows and grows, right through the roof.
George's Grandma is so mean. When George's parents are there, she treats him like an angel. When his parents are gone, she works him hard and mistreats him. One day, he loses it. George decides to give Grandma his medicine. George picks up anything that will help. When George gives the medicine, Grandma shoots up through the roof. When his parents come home, they are shocked. They call a crane to hoist Grandma out. She sleeps in the barn that night.
The next day, George's dad tries to get George to make a shrinking potion. But Grandma likes being tall. In fact, she wants to get even taller. When they try to give her the medicine, she drinks the whole vat. Grandma started shrinking, alright. But she cannot stop. George catches Grandma, but she shrinks until she could not be seen. Now they live wondering if they have stepped on her.
As you can see, George has a mean grandmother, but he loses her forever. George now has a normal life and can live in peace. Obviously, George is happy to get rid of her!
If I wrote this book, I would change the ending. Instead of shrinking she would grow and get lost in a black hole. My favorite part of the story is when George thinks of the idea for medicine for Grandma. He also picks up random items to put in. I like it because it is very funny, yet wrong to do. My favorite character is George. I like him because his Grandma works him and he does not complain. He also takes the initiative to make a potion. My least favorite character is Grandma. I don't like her because she works and mistreats her grandson.
This story relates to my life because I also have a mean grandma. She is very mean. At a resturant she wants her food right. She will even yell. I have cut off all ties with her. I think others should read this story. They should because it is real funny and it teaches you a lesson. All of this this author's books are GREAT!