Dragon Rider
Written by Cornelia funk
Illustrated by Cornelia Funke
Reviewed by Jeran H. (age 10)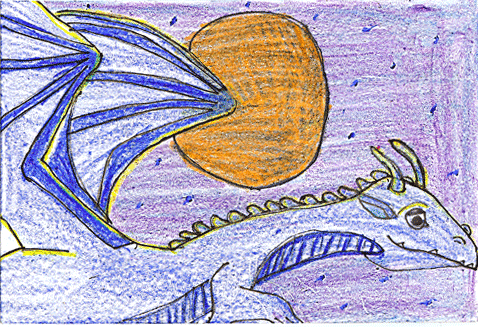 This story is about a dragon, a boy and a cat that go on a journey around the world to find the Rim of Heaven. The Rim of Heaven is a place where many dragons escaped from Nettlebrand, the dragon slayer, that eats dragons because their horns are made of gold. First, Fire Drake (a dragon) and Sorrel (a human-size cat) are living on an island that has many dragons on it. They are set to find the Rim of Heaven because humans are coming. So they find a cave to sleep in during the day (dragons can only fly at night because the moon powers them). They meet this boy named Ben, and Sorrel gets into a fight with Fire Drake about Ben (a human) coming with them. At the end, Ben goes with them.
Next, they find another cave and a person named Profesor Greenbloom lives there. He is very helpful with directions. He says that his wife was a draciologist (someone who studies dragons) and that they should visit sometime. Then Sorrel, Fire Drake, and Ben fly again and land in some mountains and see a castle far away in the distance. The castle has a huge dragon living in it named Nettlebrand and his armor cleaner named Twigleg. Twigleg is about three inches tall and looks like a little man with a big nose. Twigleg also comes aboard Fire Drake but what he doesn't tell them is that he is Nettlebrand's spy.
Finally, they come to a huge ocean and which takes two days to cross. By the time they are halfway through it, it's morning and Ben's map does not say anything about an island. So they rest on the island, but later they find out that it is actually a sea serpent as it raises its head. The sea serpent takes them across the ocean to the Rim of Heaven. It is during the crossing that Twigleg tells them that he is Nettlebrand's spy, but still on the good side with them. At the Rim of Heaven, they must defeat Nettlebrand by browny spit (Sorrel's spit) and blowing dragon fire on his scales to melt them and kill him. Luckily they meet another dragon named Maia, who helps them defeat Nettlebrand, and they all live happily ever after.
I would not change anything in this story. It is already great and very entertaning. My favorite part of the story is when Sorrel and Fire Drake defeat Nettlebrand by melting his scales. Sorrel is my favorite character because she is a browny girl (a human size cat) and she is so protective and very brave. My least favorite character is Nettlebrand because he is evil and is trained to eat dragons because their horns are made of gold.
This story does not really relate to my life at all. However, I would suggest that people read this book because the story is so detailed and wonderful It also has may great settings and pictures.