Sisters Grimm: Once Upon a Crime
Written by Michael Buckley
Illustrated by Peter Ferguson
Reviewed by Stella G. (age 8)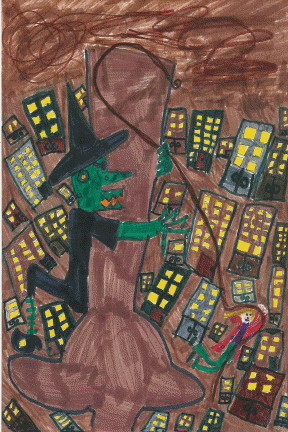 The Sisters Grimm is about two sisters named Sabrina and Daphne Grimm, their grandmother, an annoying fairy boy named Puck, and a man named Mr. Canis.
In this story Puck got his wings ripped out of his back. Sabrina and her family had to take him to New York City where other fairies lived and could heal him. In New York a wizard made a giant witch robot that tried to attack them all. In the end they got home safely.
I really liked this book because it is exciting and there is a lot of adventure. I also liked it because it had humans, but it couldn't be real because of all the magical creatures.
My favorite characters are Sabrina and Puck. I like Sabrina because her eyes are wide open to danger. The rest of the family trusts everybody and never thinks terrible things are going to happen, but Sabrina is more realistic. I like Puck because he could be very funny. Sometimes he got way too annoying, but other times he did the funniest things.
This book made my heart thump a lot. It had so much excitement and adventure. I never knew what was coming next. I never knew if Puck would heal or not!
I recommend this book to 3rd graders and up. I think they would like Sabrina and Daphne. They are two delightful girls who have lots of adventures and are also detectives.