Henry and Mudge Under the Yellow Moon
Written by Cynthia Rylant
Illustrated by Sucie Stevenson
Reviewed by Mattia D. (age 7)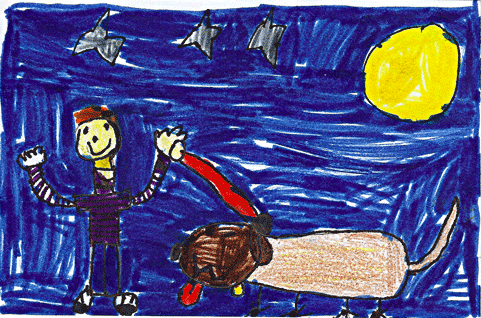 Do you want to read a book about a boy with his dog and about friendship? Then this book is the right book for you. "Henry and Mudge Under the Yellow Moon" is about a boy named Henry and his big dog Mudge. In the beginning of the book Henry and Mudge took long walks in the woods because Henry liked the leaves and Mudge liked them too. In the middle of the book is Halloween night. Henry's mother told ghost stories and Henry hated them. In the end of the book, Henry's Aunt Sally came for Thanksgiving, Henry hated her. Will Henry have a great Thanksgiving with Aunt Sally? If you want to know you will have to read it.
One of my favorite parts was when Mudge was tapping his teeth together to calm himself down, because he was afraid of the yellow moon and the dark room more than ghost stories! My second favorite part is when Henry's Aunt Sally comes for thanksgiving, but Henry doesn't like her because she talks and eats too much. Henry thought she hugs the TV too. I loved my first favorite part because it was funny when Henry and Henry's mother were frightened of Mudge when he was tapping his teeth. I was frightened when my friend tapped his teeth together when he was scared on 2008 Halloween night. I loved my second favorite part because one Thanksgiving year a woman talked and ate too much, at first I thought she hugged the TV because she watching TV every second almost every day. I understand the book better because I think I know how Henry is feeling, maybe annoyed, nervous and a little bit scared, so I think he did not want Aunt Sally to come for Thanksgiving. The illustrator used beautiful color for the picture, the Author used description language. I like this book because they make me learn a lesson myself. My favorite characters are Henry and Mudge because they're the main characters in the book. Henry has a nice friendship, Mudge wags his tail, and makes me laugh, it is funny. This book is part of a series, the first book is called Henry and Mudge, it's similar to another book of Henry and Mudge because they all have Henry and Mudge and they all have several problems.
I recommend this book to you and for any age, because it's about friendship and friendship clears my heart. I think it will clear your heart too. I think this book is great for any age because the characters are really realistic. So I think this great book is for you!