The Tail of Emily Windsnap
Written by Liz Kessler
Illustrated by Sarah Gibb
Reviewed by Rylee H. (age 10)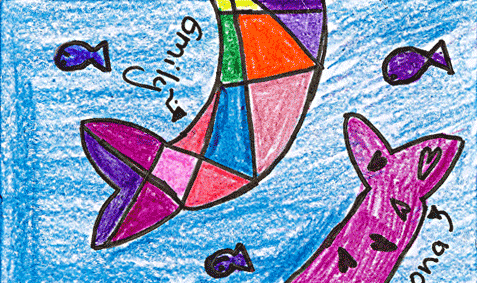 In this story, the main character is Emily Windsnap and she is a mermaid. She lives on a boat in New Jersey. She is a very smart person. Most people do not think highly of her.
In Chapter 1, Emily goes to her first day of 7th grade. She must get in the pool. The thing is, when she gets in a pool, she grows a fin. When her teacher tells her they will be swimming, her jaw drops. She tells her teacher that she feels sick and goes home. When she goes home, her mom asks why she came home. She says we are swimming in PE.
Then her mom's jaw drops and says she will write a note. The next day she takes the note and gets out of swimming. Then she gets pushed in. Luckily she is out fast enough not to grow a fin. Next in the story, she meets Bob. Bob tells her she is a chicken and can't swim. She fills with so much anger she jumps in and swims. Then she sprouts a tail. Luckily her BFF tells everyone it is fake and a trick. No one ever says a thing about it.
I would not have changed this book at all. I like the way it is written. My favorite part of the story is when Emily goes into the pool and turns into a mermaid, because she figures out why her mom never let her swim. My favorite character is Emily. She is always learning something new. My least favorite character is Bob because he bugs her and makes fun of her.
This story relates to my life because people are constantly on her and telling her what to do and that's how I feel too.. I think others should read this story because it is an amazing and thrilling story.