Junie B. Jones and the Stupid Smelly Bus
Written by Barbara Park
Illustrated by Denise Brunkus
Reviewed by Phoebe (age 7)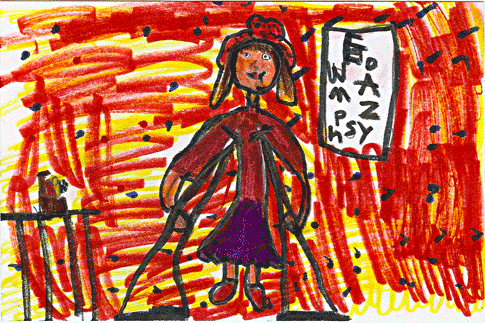 Hey reader if you like funny stories then this is the book for you. Junie B. meets her teacher Mrs. and shows her shiny shoes and her devil horn hat to Mrs. Next she makes some new friends. The kids were in the classroom when she writes her name in a circle but she doesn't like how she wrote it. Then the class takes a trip tour around the school to know where the locations are. If you want to find out more about Junie B. Jones read this book.
I thought Junie B. was lucky because she got to go all around the school alone. I think that the pictures are great. I think that Junie B. Jones is funny. For example, she doesn't pronounce the words correctly. Junie B. yells a lot, for example, she was going to ride the bus and she yelled "where is the stupid smelly bus goin to" because she didn't know where the bus was going.
I recommend this book to people ages 7 and up because it is about a girl in Kindergarten. I think people who don't like to ride the bus would like this book because the book is all about a girl who does not like to ride the school bus which would be Junie B. Jones.