Frog and Toad are Friends
Written by Arnold Lobel
Illustrated by Arnold Lobel
Reviewed by Karin U. (age 8)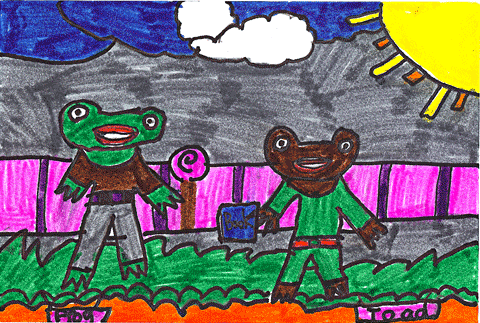 Do you want to read a book about friendship? Then you should read this book. One day Toad was feeling unhappy because Toad never got mail. So Frog decided to write a letter for Toad then Toad could get his first letter. Frog asked a snail to bring the letter to toad`s house. But Snail was being really slow. Will Snail make it Toad`s house? Read the book and find out.
My favorite part was when Toad got a letter from Frog because it made me happy. When I get a letter I get happy. I think Toad feels happy too. On the letter it said "Dear Toad I am glad that you are my best friend. From your best friend, Frog" "Oh!" said Toad, "that makes a very good letter." When I was little I didn't get a letter, but the next day I received a letter from my grandma!! I felt happy and so excited.
I think this book will make you laugh because there are a lot of funny and happy parts. I chose this book because it is very funny. I recommend this book for beginner readers and for those who like Frog & Toad series.