Keeker and the Sneaky Pony
Written by Hadley Higgenson
Illustrated by Maja Anderson
Reviewed by Saffron S. (age 7)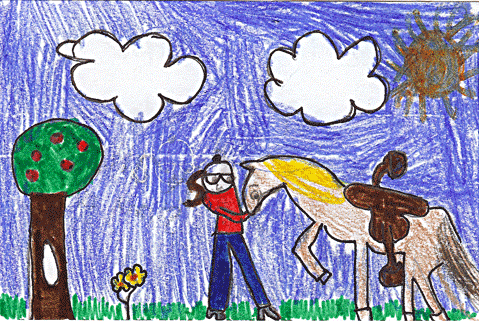 Do you want to read a book about friendship? Then, this book is perfect for you!! Keeker is a young girl, she has five dogs, two cats, a goat and a parakeet, but none of them are really hers. What she really wants is a pony. So one day, Keeker's Dad drives out to Berryhill Farm. Her Mom brings the new pony over and Keeker calls him Plum. Her heart starts to go fast and her face turned into a cherry. Finally, she calms down. She already loved the pony. Keeker said, "Mom, Mom, can I go riding?" her Mother said "not until Plum gets comfortable." Will Keeker and Plum have adventures or not? You will have to read the book to find out.
One of my favorite parts is when Keeker had a really nice dinner. Plum got a nice dinner of mush and Keeker got hot dogs without a bun, just the way she liked them. It made me hungry. The author uses descriptive writing, and I wanted to read my favorite part again and again. My connection to Keeker was when Keeker really wanted a pony, just like me. It helps me understand the book better, because it makes me think Keeker is just like me and I think we have the same personality. I found Keeker, the character, interesting because she reminds me of me and I can get connections just by one character. I like the character Keeker because she had a slight temper and later in the book she learned how to be patient.
I recommend this book to all ages; I definitely recommend this book to people who love animals, just like me. If you like illustrations, this book is great for you and if you like descriptive language. I promise you will love the text. I think you should read this book, because the expressions are great and you can learn a lesson. The illustrations are not ordinary, they are remarkable.