Henry and Mudge the First Book
Written by Cynthia Rylant
Illustrated by Sucie Stevenson
Reviewed by Vanessa P. (age 7)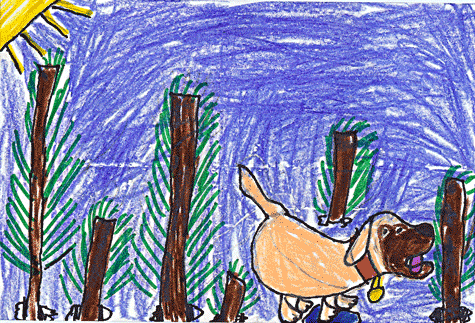 Do you want to read a book about friendship? Then this is a great book for you. One day a boy named Henry asked his parents "Can I have a dog?" "No," they almost said, but first they looked around their house with no brothers or sisters, and looked out their window and said "yes." So Henry looked for a dog and found Mudge. One day Mudge licked Henry's face and Henry fell asleep and Mudge went out. Mudge was lost and well, you have to read the book to find out if Henry will find Mudge or not.
My favorite part is when Mudge licked Henry's face because it was funny. It feels really sticky and gooey and wet. I know how it feels because I have a dog too and he's like Mudge. He likes to lick me and I am like Henry because once my dog licked me and I fell asleep. That tells me that Mudge likes to lick Henry a lot. I like the illustrator because she has a lot of details. She uses pink, yellow, green, and more colors. When I read this I was so excited because it was the first book of Henry and Mudge.
I recommend this book because it is really funny and any family or kid can read this book at any age. Mudge is a little interesting because he does weird things in this book but he doesn't do much. I think the big idea is to train your dog to not run away from you.