Henry and Mudge and the Tumbling Trip
Written by Cynthia Rylant
Illustrated by Carolyn Bracken
Reviewed by Seamus O. (age 7)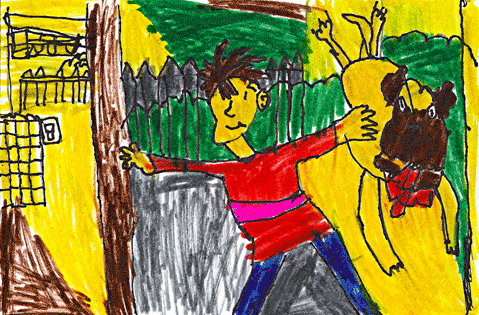 Do you want to hear about a boy and a dog on a trip? This is a great book. One sunny day Henry and Mudge were on vacation! They went to the wild west! They went to a gas station. Mudge knocked down the parking sign. When they drove for a long time, they stopped at a motel. They got cowboy hats and boots and then they got Mudge a bandana. Then they planned for the next day to chase tumble weeds. Do you want to see the other adventures they have? Well you have to read to find out.
My favorite part was when Mudge knocked down the parking sign because it was funny. The book reminds me of the movie Hotel for Dogs because Henry and the other dogs were chasing the little dog with the bone and the others catch him, but everything fell! That part was funny because Mudge was so excited he waged his tail hard but the parking sign fell. I know that Henry and Mudge like adventures. This book is the best one I ever read. This one is the best adventure ever.
I recommend that 2nd graders will like this book because there are a few funny parts and it made me keep reading. This is a realistic fiction book because you can have adventures at any place when you're on vacation. The author's drawing style is the colors of a rainbow.