Junie B. Jones is Not a Crook
Written by Barbara Park
Illustrated by Brunkus, Denise
Reviewed by Maki Y. (age 7)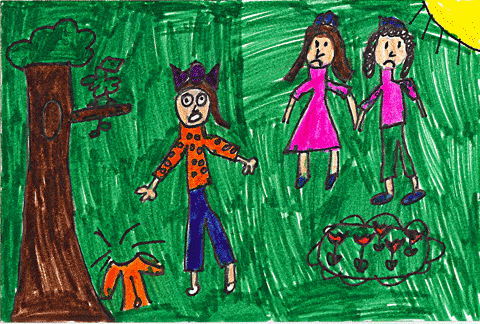 Has your family's things ever got stolen? Well this is a book about a girl named Junie B. Jones who's funny and talkative and crazy. She always makes a problem or has a problem. For example when she is doing a test and she doesn't know the answer and she gets annoyed, now she is in a problem! Another example was when she had a monster under her bed and she tries to get a new bed, but her mother says "No" so she has to stay with the monster. One day when Junie B. was at home she got black furry mittens for no good reason. But at school something really worse happened..... Someone stole her mittens! Now Junie B. gets mad..... She went to the lost and found but she couldn't find her mittens. Do you think Junie B. Jones will find her mittens? Or she will lose it forever? Well read this book and find out!
One of my favorite parts was when Junie B. Jones lost her mittens. It was really exciting and it makes me want to read more. Also it made me think "What is going to happen? Is she going to find her mittens?" Also a problem like losing mittens is a big deal and it make us curious about the book. This book reminded me of another book which is the Nate the Great series. Nate's friend loses something and his friend is angry about it like Junie B. Junie B. is an interesting character because she has a problem all the time and she thinks of a solution but instead the solution doesn't work. I liked the illustrations because it has a lot of details in the drawing and it was easy to describe it in my words. I feel sorry for Junie B.. because I know how she feels. In my life I lost a water bottle and I really liked it, but I never got it back. I think she feels angry, embarrassed, and disappointed. I think Junie B. really loved her mittens because she was screaming "911! 911! Somebody stoled my mittens!" This book reminds me of my friend Abron. He lost something like his lunch box and a book from home and it was the same like Junie B. Jones losing her mittens.
I recommend this book to 1st grade - 4th grade cause it has a great lesson and it has details in the illustrations. I think people who like funny books will like the Junie B. Jones series. I think that people of any age can read this book because children have to learn that stealing stuff is bad and some adults still steal some stuff! So if they read this book they can learn it is a bad thing to do. Please read this book!