Pinky and Rex and the Spelling Bee
Written by James Howe
Illustrated by Melissa Sweet
Reviewed by Aidan M. (age 0)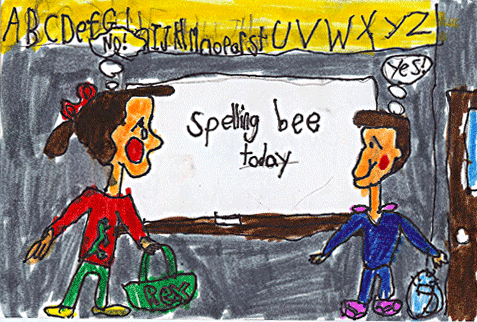 Do you want to read a book about friendship? Then read this book. When the spelling bee started, Pinky was very excited. But as the spelling bee went on, he began to get nervous. Will Pinky win? Find out in this book. I think the message is it is okay if you lose, only if it is not a test.
My favorite part was when it was lunch time and Pinky thought his teacher meant that he should spell it instead of going to the cafeteria. I liked this part because it is funny and it makes me laugh. This reminds me of my joke books, Dr. Knucklehead's Knock-Knocks and Monster Jokes. I also liked the colors. They were very bright. My favorite character is Pinky because he makes me laugh out loud, but he did not do it on purpose. He just thought that the teacher called his turn in the spelling bee. This book comes from a series and is not like the other books except that they're all about friendship.
I recommend this book because it is all about friendship. This book is great for kids with friends and for kids with no friends. It is good for kids with no friends because it can teach them how to make friends with other kids. I think this is an interesting book because the characters are very nice to each other and are very generous and I hope you are, too.