Meg Mackintosh and the Mystery at Camp Creepy
Written by Lucinda Landon
Illustrated by Lucinda Landon
Reviewed by Lorenzo H. (age 7)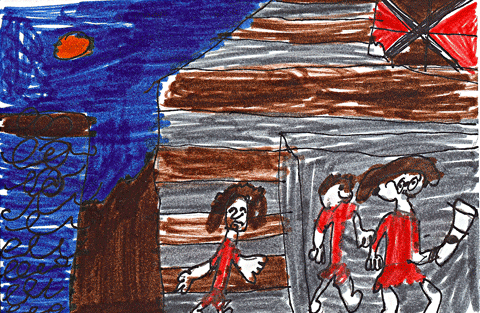 Do you want to read a book about a ghost? Meg Mackintosh and The Mystery at Camp Creepy is about a detective named Meg. She says she can figure out a Mystery about a ghost before dark. She has some friends named Russell and Tina. They need to find clues to figure out where a ghost is and a prize. Will Meg, Russell, and Tina figure out this Mystery before dark? Well … you'll have to read the book to find out. I think the big message in this book is that ghosts are not real, and you should not believe in them.
One of my favorite parts in this book was when Meg and the other campers were eating breakfast. I loved this part because the campers had pancakes that morning. That made me feel hungry. And I have pancakes for breakfast sometimes. This part of the book is when two campers were unraveling a code. This part reminded me of when I was unraveling a code.
This book is a part of a series named Meg Mackintosh by Lucinda Landon. I felt anxious when I was reading this book because it made me want to read more. I like the illustrations because they were so detailed, even though they were black and white. I think this book is fun, because it makes people want to read more. This book is like other ones by the same author because Meg is always looking for a Mystery.
I recommend this book for grades 2 and up because you have to decipher a lot of things. I think people who like to decipher things and are into detectives and spying should read this book. I like the details in the writing. I think there are so many details because there are small pictures. This book was so good I did not want to stop reading.