The Last Holiday Concert
Written by Andrew Clements
Reviewed by Brittany P. (age 10)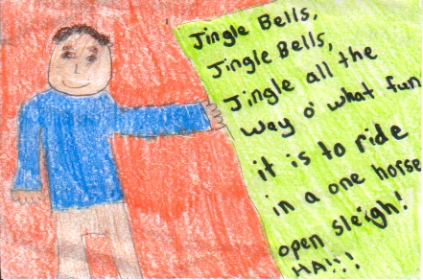 Hart Evans was the most popular kid in Palmer Intermediate School. Hart hated chorus and his teacher was Mr. Meinert. One day in chorus. Hart really wasn't paying attention. He was shooting rubberbands. One stuck to Mr. Meinert's sweater, and the other one hit the piano and Mr. Meinert right in the neck. Mr. Meinert took Hart to the principal's office. He got detention and had to go after school for two days. The next day they walked in to the chorus room and on the chalkboard it said," HOLIDAY CONCERT DECEMBER 22, 7 P.M. SIX GRADE ORCHESTRA- 20 MINUTES. SIXTH GRADE BAND - 20 MINUTES. SIX GRADE CHORUS - 30 MINUTES." Mr. Meinert wanted a student director. They coudn't decide on one. Everybody agreed to vote for one. The next day the one who had the most votes was the winner. The winner was --- Hart Evans. Hart was shocked. He didn't want to be it, but he had to because that was the rules. Mr. Meinert said," It is all yours!" He was upset because there was no money in the budget and his job was cut. Hart had to think of what to do for the concert. He asked his classmates. Everybody wanted to do this and that. Read the book to find out about the Christmas Concert and whether or not Mr. Meinert was out of a job.
My favorite part is when Hart had to think of what to do for the concert. I liked this part because Hart was in charge and he had to make a choice about what song to do and if anybody was going to dance at the concert. Hart thought he could just fool around. But he couldn't because he was in charge.
Hart reminds me of me because he was all worried when he found out that he was the student director. I would be worried too because I wouldn't know what songs to do for the concert. I get worried when I am put in charge. I always wonder if the kids will listen to me.
I liked Hart because he was the student director even though he didn't want to do it. He never gave up. I like the way he tried to get everyone involved in the concert.
I felt happy and sad as I read this book. I was happy because Hart put on a great concert. I was sad because Mr. Meinert was leaving and there would be no music at the school.
I would recommend this book to 4th and 5th graders because it would interest them. They can relate to the story when they are having a concert, and what songs and dances they are going to do. I hope you read the book, "The Last Holiday Concert!!!"