Encyclopedia Brown Boy Detective
Written by Donald Sobel
Illustrated by Leonard Shortall
Reviewed by Sam P. (age 7)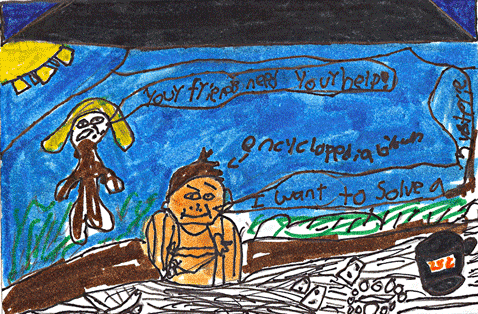 Do you want to read a book about mysteries? Then this book is a good book for you! This book is about a boy detective who solves mysteries like the Case of the Champion Egg Spinner! The boy detective's name is Leroy Brown but all of his friends call him Encyclopedia Brown because he knows so much. Encyclopedia Brown goes to his house. His friends are waiting. They need his help. It's Eddie Phelen his egg spins the longest in the egg spinning competition his friends keep losing all of their stuff like magic tricks and a tooth collection. Will Encyclopedia solve this problem? Can he solve it……well…you'll have to read this book to find out what happens. I think Donald J. Sobol is trying to say don't cheat because someone will soon find out.
My favorite part was when Mr. O'Hara the drug store guy was talking to Eddie Phelan. He spins his egg so long in the egg spinning contest! I like this part because I found dialogue I think it's cool because a lot of books don't have dialogue and dialogue is interesting. My favorite character is Encyclopedia because he sounds like a nice guy and he solves cool mysteries. I like the black and white illustrations because you can use your mind to color them in. This series has 13 books. It is similar to the other books because there are the same characters and usually never new characters. Encyclopedia Brown reminds me of Jordan, my classmate because he's always trying to help.
I recommend this book to ages first grade and under. I think moms and dads or teachers should explain it because it gets confusing. People who like mysteries would like this book because you can make your own solution or read them on the back! You can find them at your local library. I give this book two thumbs up and I hope you do too.