Lunch Money
Written by Andrew Clements
Illustrated by Brian Selznic
Reviewed by Niklas G. (age 11)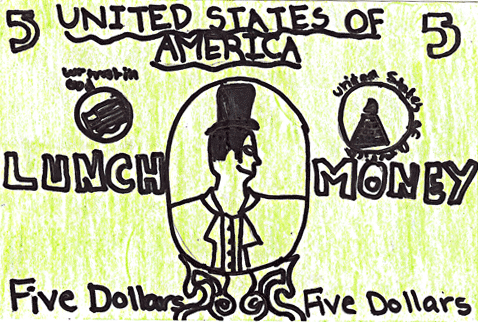 Greg Kenton is a normal kid who has always been good with money. He made money by: cleaning rooms, washing cars, mowing lawns, and selling lemonade. He loves money, making it, and having it. He has only one competitor, Maura Shaw. She has been copying him ever since kindergarten.
Greg notices how much money is at school, and it really adds up. So, he decides to sell things at school, such as trolls, bouncy balls, and plastic rings. Suddenly, he is called to the office and he is no longer allowed to sell things at school Greg sees people reading a lot and that's his idea: selling comics at school. He calls his company, "Chunky Comics" and his first strip is called, "Creon, Return of the Hunter." There's only one problem; Maura's copying him.
They have fierce competition, but both comics get banned. Greg and Maura are both disappointed, but find a way through it. On Thursday night, they will talk with the committee about it. They have their chance, but will the committee let them sell comics? Read Lunch Money to find out.
I would not have changed anything about this story, because I think the story has a perfect beginning, plot and ending. My favorite part of the story is when Greg decides to make Chunky Comics. I like it because it is creative and funny. My favorite character is Greg, because he has a talent with money and is creative. My least favorite character is Mrs. Davenport because she bans all the good ideas Greg has.
This story relates to my life because I like money too and enjoy making money. I think others should read this story, because it has a lot of suspense and it is very interesting.