The Shakespeare Stealer
Written by Miriam Shahid
Reviewed by Miriam S. (age 11)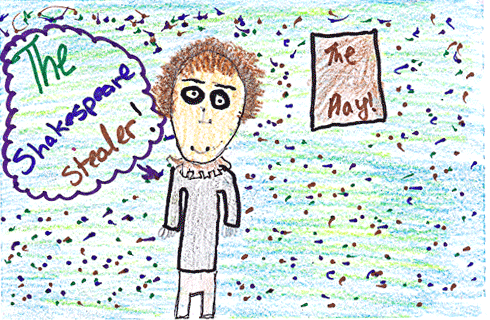 In the beginning of the story, there is a boy named Widge. He is an orphan. A kind man named Dr. Bright and his wife accepted Widge and gave him a place to live and sleep. He also learned to read and write. He learned a lot at Dr. Bright's until a man came and bought him as his new servant.
Widge's new master's name was Simon Bass. Mr. Bass was a little mean, quite serious, and something strange about him was that he always wore a hood. Mr. Bass and Widge traveled a lot together. When they reached their destination, Mr. Bass talked about this guy named Falconer, who was also very serious and someone who had achieved or had to achieve what he wanted no matter what. Falconer had Widge go to a play and told Widge to take down notes. After he left, Widge unfortunately couldn't take down notes and feared that if he didn't take down notes, Falconer wouldn't leave him alone. Then he stayed back so he could steal the play and give it to Falconer. Mr. Pope, who was part of the theater, allowed Widge to stay back because Widge told Mr. Pope he wanted to become a player.
Finally at the end of the story, Widge liked staying with Mr. Pope and the others. He did a lot, had many responsibilties, and felt ashamed that he had to steal the play from such friendly people. Then this player named Nick, who was always grouchy later supported Falconer. Nick tried to steal the play book for Falconer. Widge and Mr. Armin saw Nick stealing the playbookk , so they chased him until they meet Falconer. Mr. Armin and Falconer fought while Widge got the playbook. As everyone knows, Falconer has never lost, but this time he loset and died, The truth is tht there was no Falconer in the first place. Mr. Bass, himself, was Falconer.
If I wrote this book, I would have changed the beginning because after Widge goes with his new master, they travel a lot and it just keeps on talking about traveling. That's whey they should have changed that part to something more interesting. My favorite part is the ending because it makes everying normal and the person who was trying to steal the play was dead. My favorite character is Widge, because he was honest and wasnever was mean to anyone, unlike Nick. My least favorite character is Nick because he is always unfriendly and never speaks kindly to anyone.
This story relates to my life because it talks about important things like respect, love, and caring. Widge is an orphan and tht tells how he feels, so I think it is reallly important to know have to care for other people's feelings. I also respect, love, and care for my family and everyone else. I think others should certainly read this book because it teaches to be nice and care for other people's feelings.