Frog and Toad Together
Written by Arnold Lobel
Reviewed by Amadou K. (age 7)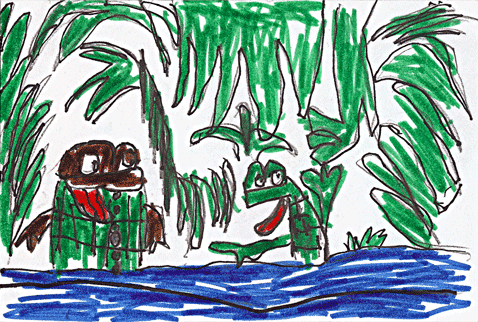 This book is about two best friends named Frog and Toad. They do a lot of fun things, like eating ice cream. One day they thought they were brave. Something terrible happened to them. A hawk came and scared them. But they think that they are brave. If you want to know if the hawk attacked them, read this book to find out. This book has a great lesson and it's one of my favorite books. The lesson is that if you read a book about dragons you shouldn't be scared, because you will be safe with your mother.
My favorite part is when Frog told Toad not to eat them cookies because they will get sick. This part was funny. Toad was asking Frog a lot of questions. The Frog got the box and he put it outside. He called the birds to come and Toad was sad because he did not have any more cookies. He went home to bake a cake. I like that part because it reminds me of when my sister and I had cookies. Frog and Toad do the same things like my sister and I do. I like the pictures because there's a lot of details and I love animals.
I recommend this book to 1st and 2nd grade because it's a funny book. My reader will like this book because it is a great book for kids to read. This book is just right for you to read it and enjoy and have fun with it. The book will make you laugh.