Henry and Mudge and the Long Weekend
Written by Cynthia Rylant
Reviewed by Semir D (age 8)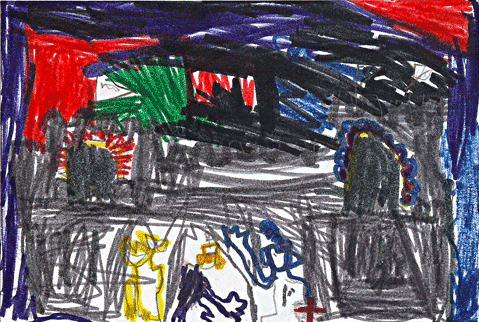 In the beginning of this book, Henry and Mudge look out the window. They look sulky because it is all wet because it is a rainy day. Then Henry and Mudge were laughing a lot and having some fun inside. They were rolling around in Henry's room. Then they were watching TV with Henry's dad and they all fell asleep. Then Henry's mom woke them up and screams out loud and says "Lets build a castle in the basement." And that is what they all do.
I like this book because I like dogs and I like Mudge. I think that he is funny, like when he pretended to be the king of the castle. My favorite part is when Henry and Mudge build a castle. It was great when they were all getting it together and laughing and smiling. I like the colors and the details of the pictures. This book reminds me of how much fun it is to play with dogs. Henry takes good care of Mudge
I would recommend this book because it is a good book with funny things that Mudge does. You will like to read this book because it is hilarious. If you like the other books about Henry and Mudge, you will like this book too.