Baby Brains
Written by Simon James
Illustrated by Simon James
Reviewed by Peyton M. (age 9)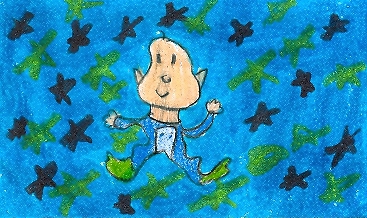 Do you know a really smart baby? Well I sure do! His name is Baby Brains. And believe it or not the day after he came home from the hospital he was already reading the morning paper. By afternoon he was fixing the car. His first words were "I would like to go to school tomorrow." So that's where he went. And guess what? He answered all the questions and got them right. On his way home he said "I would like to go to college and study medicine." So he went. One day some space people called and asked if he wanted to help them with a mission. Read this book to find out if he does it.
My favorite part was when Mrs. Brains put head phones on her stomach in different languages so her baby would know them. I found Mrs. Brains very interesting because before she had her baby she was doing some pretty weird stuff such as putting headphones on her stomach and turning up the volume really loud when the news came on. I think Baby Brains changed in a way because he was a really smart baby and most babies that I know aren't smart. To find out how Baby Brains changed read this book.
I would recommend you this book because it really is a very funny book and Baby Brains is so smart. So if you are in your local library check out this book. I hope you like it.