The Invisible Mistakecase
Written by Charise Harper
Illustrated by Charise Harper
Reviewed by Sarah C. (age 9)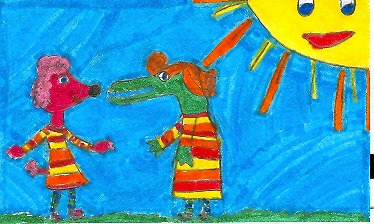 Have you ever felt bad? One day Charlotte, a little alligator, called her best friend Kate a big pink baby and Kate ran to her house crying. After that Charlotte felt very bad. So Charlotte's Grandpa showed her his invisible mistake case and told her a story. Charlotte felt much better after that. Then she finds out she has one of her own and she gets very excited.
I like this book because it has a good lesson in it. It might teach little kids not to call each other names. It might also teach them not to be mean. And not to fight! I like the illustrations they are very creative and beautiful. They are made out of acrylic and collage. I think they are very very very beautiful. When I was reading this book I felt bad for Kate. I also felt sad. I kind of felt like Chaorlotte. I also wondered why Charlotte did that to her best friend? And why Kate cries so much?
I recommend this book to anyone who wants to read a good book!