The Cat in the Hat
Written by Dr. Seuss
Illustrated by Dr. Seuss
Reviewed by Gary S. (age 8) & Shea W. (age 7)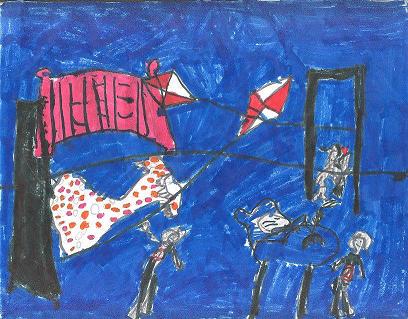 First, it was not a sunny day. Then a Cat in the Hat showed up at the house of Sally and her brother. The cat comes in from a rain storm. They said he could do some tricks. He says to the kids, "Why are you sitting there like that? I know that the sun is not sunny and it's cold outside, but we can still have lots of fun that is funny." Their mother was out for the day to run some errands. Read to find out what tricks he does.
Gary thinks this book is interesting because he likes how the cat puts balances a cup and a cake on his hat . Shea's favorite part is when Thing One and Thing Two were running in the hall and bedroom.
We recommend this book to children like you. We think children should keep this book so they can know how the cat likes to have fun and know how to have fun so they won't be bored. This book could entertain kids if you want it to.