Ricky Ricotta's Mighty Robot vs. The Voodoo Vultures From Venus
Written by Dav Pilkey
Illustrated by Martin Ontiveros
Reviewed by Ernesto R (age 8)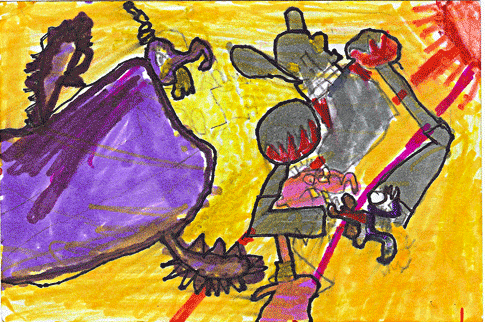 Have you seen a mouse and a robot save the Earth? Ricky and the Mighty Robot have to save Squeakyville from the Voodoo Vultures. Ricky's Mighty Robot is in big trouble! He fights the Voodoo Vultures. The Mighty Robot is trying to defeat the Voodoo Vultures, but will the robot win or lose? Read it to find out.
My favorite part in Ricky Ricotta's was when his mighty robot fools the voodoo vultures. Ricky uses super red-hot chili peppers to bake into cookies. The voodoo vultures are greedy and they don't even say thank you for the cookies. I like this because it is amazing. I like this book because this book is full of action. Rick and the mighty robot are in big danger. There is only 1 mighty robot and 4 voodoo vultures. I think that the Mighty Robot is going to lose because its 4 against one. Four is better than one. My connection is when Rick uses super red-hot chili peppers. I eat chili pepper sauce at home. I know that the chili peppers are really hot because I remember when I tasted a chili pepper seeds and it tasted really spicy hot.
I recommend this book to kids that like action books. Because it has the fighting and the funny names like Sergaent Stinkbugs.