Junie B. Jones Has a Monster Under Her Bed
Written by Barbara Park
Reviewed by Sander C (age 8)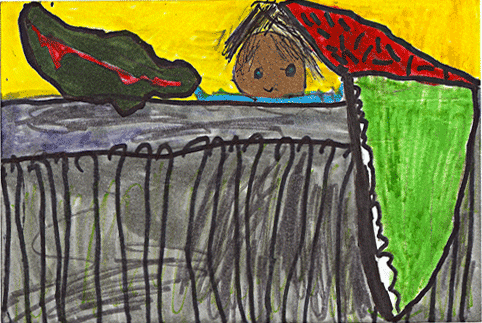 Have you ever met a girl that couldn't sleep a wink just because she thinks there is a monster under her bed!? Well, if you read Junie B. Jones Has a Monster Under Her Bed you will. Junie B. is at school when Paulie Allen Puffer said, "A monster lives right under your bed!" Is there really a monster under her bed? Or is it something else? What is it? Read this book to find out!
I like all of the Junie B. books because they are so funny! Junie B. is making issues (complaints) so her dad will come back to save her. Because she is afraid of monsters. "RUN HELEN! RUN LIKE THE WIND!" Junie B. yells because she is worried that her grandma will get eaten. Junie B. is mixed-up, confused, silly, and funny. Junie B. thinks monsters are real, even though the grown – ups say they don't exist. Junie B. is scared of her own dog because she thinks it's a monster! I like this part because Junie B. is so mixed-up she doesn't know her own dog isn't a monster! How can you be scared of your own dog? Junie B. is afraid of monsters so she went into "the safety of" her mom and dad's room… but her mom catches her red-handed! If Junie B. was a superhero, her super name would be Scaredygirl!
I recommend this book to people who like a mix of: mysteries, happy stuff, and scary stuff and mixed-up characters. If you like one Junie B. Jones, you'll love all the other ones too!