Poppleton Has Fun
Written by Cynthia Rylant
Illustrated by Mark Teague
Reviewed by Catherine O (age 7)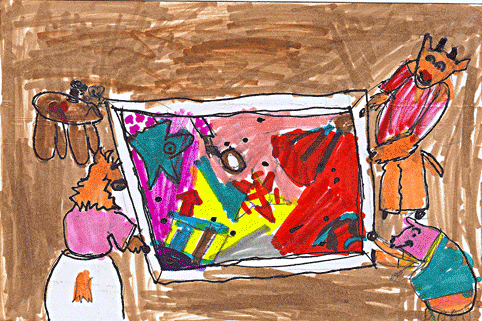 Poppleton and Cherry Sue were planning on making a quilt. Hudson and Filmore were so excited to make the quilt that they told stories when they were sewing. So, when they were sewing, they sewed the picture that was in their stories on the quilt. Then they decided to share the quilt every season because they all made the quilt together. Fillmore got it in fall, and Hudson got it in spring and Cherry Sue got it in winter and Poppleton got it in summer every year and every season they were sleeping with it the whole time. But… why did they sew the picture of their stories on the quilt?
My favorite part is when everyone gets their stuff from home and makes their quilt. Because when they finish making the quilt I felt like making one too. When they were sewing, it reminded me of when I was making something for my mom. Snip! Snip! Finally Poppleton and his friends were finished. They were so thrilled that they shared the quilt! I like what the illustrator did with the pictures because the characters look really good on every page.
I recommend this book to people who like creative books. Also, fun books that are thrilling to read. If you like happy characters then go read this book!