Miss Nelson Has a Field Day
Written by James Marshall
Illustrated by Harry Alllard
Reviewed by Josiah M. (age 7) & Angel T. (age 7)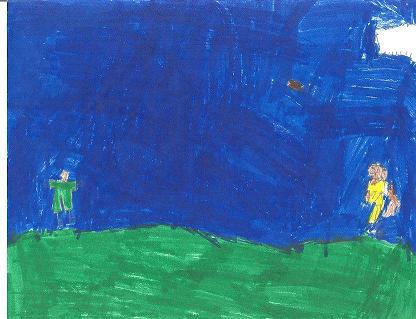 This story takes place on the football field. At the beginning, the Tornadoes looked sad because they haven't won a football game yet. Even the cafeteria ladies were down in the dumps and the principal Mr. Blandsworth was under his desk. They wished the Swamp was back so Miss Nelson called her sister Barbara. Do you think the Swamp will change the team? Read and find out!
Josiah's favorite part is when the fullback tries to pussyfoot away because the coach Swamp tackles the fullback. The picture looks hilarious. Angel's favorite part is when Miss Viola Swamp is watching the kids from the window. Josiah's favorite character is Coach Swamp because she makes you laugh so hard you'll cry. Angel's favorite character is Miss Nelson because she is nice to the students and Miss Viola Swamp is mean to the students.
I recommend this book to kids that have not won a football game yet because I bet they want to win a football game.