Goldilocks & The Three Bears
Written by Judith S. George
Illustrated by James Finch
Reviewed by Darryl K. (age 8) & Victoria T. (age 8)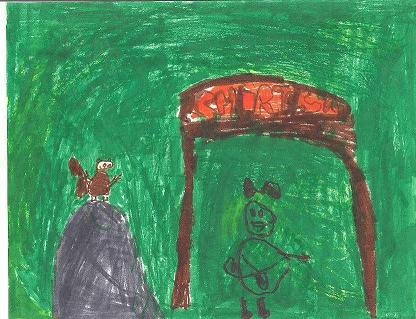 The characters in this book are the three bears, Goldilocks, and her mother. The bears live in a very fancy house in the forest. In the beginning of the story Goldilock's mother sent her to buy muffins in the next village so her mom said not to take the shortcut through the forest. Goldilocks didn't listen to her mom and goes through the forest. She finds the bear's house. Then she finds the bear's porridge. When she tasted the big bowl on the table, she said "Patooie". Read to find out what happens in the middle and the end.
It is silly book. The pictures look very crazy and messy. Our favorite part is when Goldilocks went into the forest because you think she will not go into the forest. Our favorite character is Baby Bear. He talks funny. It is interesting when he says "Somebody been sitting in my chair" and "Somebody has been lying in my bed and she's still there!"
We recommend this book to 1st graders because it is a great book for 1st graders to read.