Aquamarine
Written by Alice Hoffman
Reviewed by Kylie B (age 9)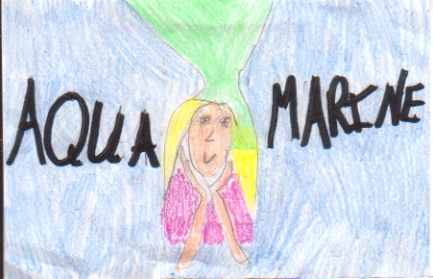 Claire and Haley lived right next to the ocean. It was summer break and they went to the beach everyday. One night both girls couldn't sleep. The wind was so strong it knocked off the rooftops. The next day the pool had been roped off. It had a no swimming sign on it. Haley went and dived into the water. She came back and told her friend that there was a mermaid there. She went back down and the mermaid came out of the water. When the mermaid got out of the water she grew legs. The mermaid's name was Aquamarine. Aquamarine said "That when the sun goes down she has to be in the water". They became friends. One day the girls were at a party. When the sun was going down, they put Aquamarine in the water tower. The next day she fell in the ocean. Then a huge storm started. Haley and Claire jumped into the ocean. To find out what happened to the girls and Aquamarine read the book.
My favorite part was when Aquamarine goes into the water tower. I like that part and I wondered if Aquamarine would be able to get out. It was scary because the water tower was so small compared to her home in the ocean. I also like the fact that Aquamarine, Haley, and Claire became such good friends.
Haley is like me because she loves to swim and so do I. Claire is like Alec my neighbor because he doesn't like to go into the water and neither does Claire.
The illustrator makes the pictures look real. He uses a light pencil to make the pictures. For the colors he used blue and white.
I started to feel happy that Aquamarine made new friends. I also felt sad when Aquamarine fell into the water and went back down with her family. I was afraid her dad might never let her go back to see Haley and Claire. It made me wonder about the ocean and the sea and what it would be like to live there.
I would recommend this book because it is a funny story about a mermaid and the two girls who found her. I think the readers who like mermaids and the beach will like this story. Grades 3 and up would enjoy this book. If you have read this book you probably would love the movie. I hope you read it.