The Mouse and the Motorcycle
Written by Beverly Cleary
Illustrated by Louis Darling
Reviewed by Kelli E. (age 9)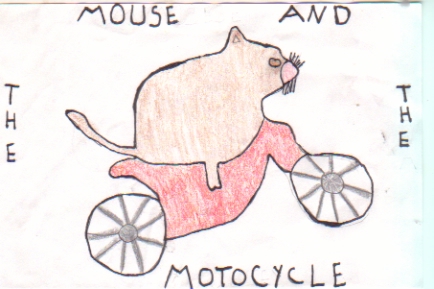 Ralph and his mouse family live in Room 215. Keith's family moved in. Keith opened his suitcase and pulled out a sedan, a sports car, ambulance, and a red motorcycle. Ralph sneaked out to take a better look at the motorcycle. It was the perfect size for a mouse. Ralph and Keith became friends. Keith made a deal with him. He could ride it at night. Ralph went at night. He had many adventures. Next morning the maid came to clean. The head maid said, "Clean under the beds." She brought a vacuum cleaner. Ralph went as fast as the motorcycle could go. He flew into the laundry basket. He chewed through it, but left the motorcycle.
My favor part was when Ralph rode at night and the terrier barked at Ralph. Ralph had to go as fast as he could to get away from the terrier. Matt, the bellboy, had to let him in Room 215.
Ralph is my favorite character because he was cool. He rode a motorcycle that was his size. I can image Ralph riding up and down the hallways. Ralph reminds me of me because I also got to ride a motorcycle. I know just how Ralph felt when he was on his adventures.
This book is part of a series. Ralph S. Mouse has two books written about him that follow this book. They are about the adventures of a mouse.
I would recommend this book to 3rd and 4th graders. They would have no trouble reading this book. They would love this book just like I do. If you like motorcycles, hotels, and mice, you would really love this story.