May Bird
Written by Jodi Lynn Anderson
Illustrated by Leonid Gore
Reviewed by Saburi B. (age 9)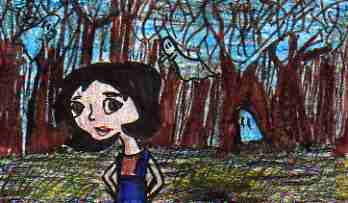 May Bird and her mother Ms. Bird live in Briery Swamp. They have a bald cat named Somber Kitty. One day when May is going for a walk in the swamp, she finds a colossal lake. She looks in, loses her balance, and falls in. She survives, but ever since May climbed out of the swamp, a world of ghosts are among her.
I love how the author wrote this book with suspense. This book is very interesting and exciting. When I started reading this book, I could not put it down. I wanted to find out what would happen next. My favorite part was when a hideous pumpkin-headed ghost chased May at night. That was the first thing that made the story creepy. There are two May Bird books but this one is the most interesting one. The character May Bird is the most exciting. She has a wild imagination just like me. She pretends to be an Amazon warrior princess. I pretend to be a warrior princess too.
I recommend this book to people who enjoy horror stories. I also recommend it to people ages 8 to 12.For younger people, it might seem too scary. For older people, it might be too boring. I recommend this book because it is scary and fun to read .You might enjoy the fun parts like when May thinks her mother is a ghost.